I spent the first several hours of today with my eyes shut.  The first of these hours was during an acupuncture appointment.  I have been suffering from tennis elbow, annoyingly without the tennis, and have tried using needles for the past five weeks for my treatment. Unfortunately this time round East isn't beating West as I still can't tie my laces or hold a shopping bag.  But, I must say, having to lay down with my eyes closed for thirty minutes during the day is therapy in itself.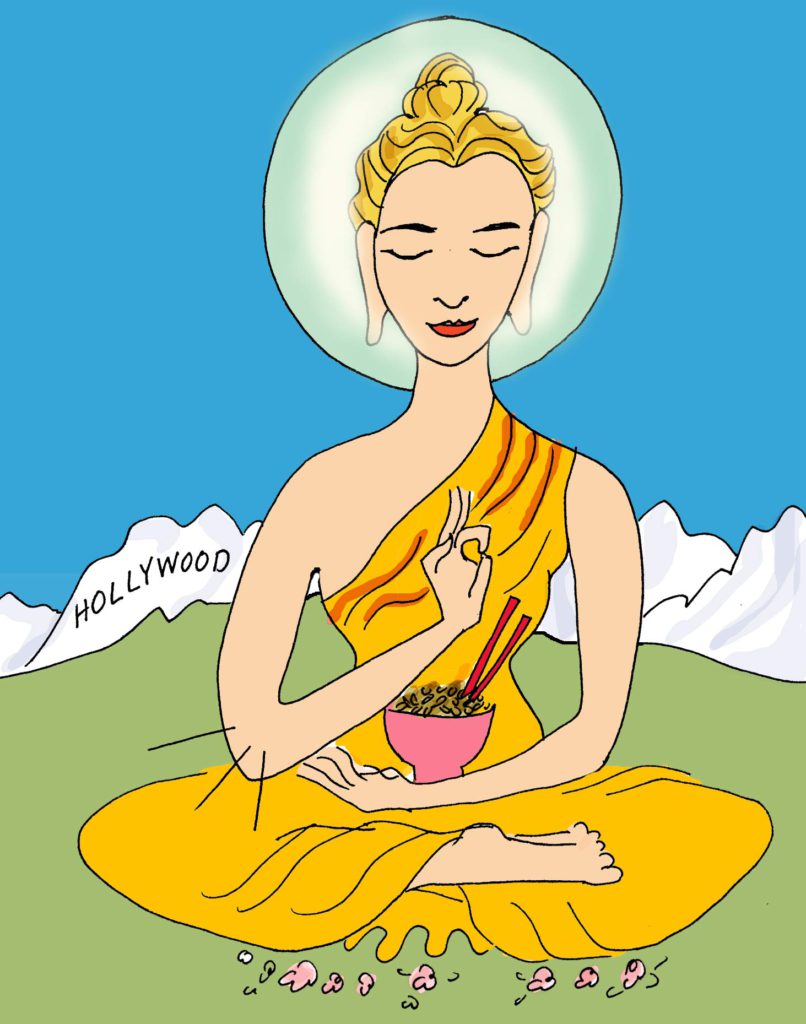 Then, it was off for a 'Brown Rice Facial' from the amazing Galina in Brentwood.  Galina has worked with a local Russian chemist and uses the oil from her brown rice concoction all over your face and then massages it with a micro electrical current wand that deeply hydrates your skin by allowing the oil to seep in deeper.  She has you lie back on her crazy chair that not only reclines, but also moves your legs in a figure eight motion, whilst you close your eyes and let the magic happen.  This 'closing-of-the-eyes' morning has done wonders for my mind.  It's an extreme example of the idea of taking a moment out in your day, shutting everything out of your mind and letting go with a big exhale.  Meditating through needles and brown rice…I like it.
Husband just went back to London.  He left on a high, not an illegal one, but an LA one where the sun seems to be shining on him now.  His film Killing Bono is kicking off – see the trailer!  As I'm not allowed to talk about him (I was recently reminded) I'll just say that having him book his ticket back here before he even left was a huge improvement.
Sometimes I wish there were other friends crazy enough to do what we do so that I had more references to pull from.  Can't quite call NBcelebF on this one yet.  Living in the present in both places can be schizophrenic.  My one new friend who lives in this way is afraid for me to return to London as I may not wish to come back.  It's a significantly statement but I'm not sure it will ever represent me in full.  I'm trying to avoid the seismic pull of infatuation, where one country takes hold of my senses romantically and I long for just it, so I'm trying to remain grounded in the allure and seduction of both.
It's been a crazy week of planning events in LA and planning dinners and parties in London.  I feel like I'm headed for memory overload – a wonderful expression used by a homeopath to describe why I forget things, important things, the moment they go into my brain.  Knowing this phenomenom occurs with me, I'm desperately trying to remain focused on the jobs at hand.  The boiler broke in London, the shower exploded here, end of school performances that dominate the diary and end of year trips in London that need to be put in diary so boys can see their friends, and I can see mine, and so it goes.
My heart races with excitement that we are all going 'home' for the holidays.  I relish the knowledge that the boys call both places home.  They may have had a tougher academic ride as they navigate both countries style of teaching – and therefore learning, but their lives are undoubtedly enriched by feeling at ease, at home, in both.  These last few months have seen my heart grow bigger and my fortitude become stronger so that we can, as a family, have these adventures and make them wondrous.
Last night of Chanukah and my eldest son breaks his toe.  They were playing a game of 'It' involving an obstacle course with my new chairs, and I heard the smash and scream.  I was hiding in the corner of the kitchen unseen at this point, listening to music, writing and generally pretending I was alone in all the madness.  I finally responded,  "Are you okay?"  "No!" screamed back my son.  "I hit the chair with my toe, it's broken!!" "Which chair?" I asked, still not convinced I had to get up from my seat.  "Did you just ask me which chair??  Is that all you care about, your new chairs??!!" he bellowed back.  Umm, of course not, but, the chairs are brand new.
Now, the law of averages suggests here that there are many more false alarms than there are broken bones.  Well, that used to be the case in my house.  Sure enough, I got up to find true pain being endured at the other end of the room, so a phone call was made to the orthopedic doctor straight away.  Americans are upset with Obama's attempt to nationalize health care but I am living proof that our system's broken.  After a huge monthly insurance premium paid, I am only now paying off the broken elbow which ran into the thousands -after insurance- and can only hope that a broken toe will be a fracture that's a fraction.
The next day we all went to the appointment at the doctors and believe it or not, the boys began yet another jumping-freeze tag game in the waiting room.  I nearly lost the plot – seriously, must they always see life as a team-tag, capture the flag experience??  Sister in law says that because there are four of them, there's always two teams ready to play; there's just not as much down time for all of you.  Well, the doctor finally saw us, all, and he could only laugh at the sight of them.  Two confirmed with broken bones and two with enough cuts and bruises to ponder just what it is that their mother does to them!  I told him, without offense, that I hoped I didn't see him for a long, long time.
In the wind down to leaving I gave 'The Lecture' last night.  "Boys, please, please, take it easy.  Don't jump off of things, don't play too hard or fight or use swords, guns, knives (those are all plastic by the way) or do anything too crazy.  We are going on a plane soon.  Please, just calm down.  And wash your hands, all the time.  Please."
It's been three hours.  Christ, I hear tears!  Needles and brown rice, needles and brown rice…