LA.  Sitting in my bedroom looking out at the palms and the sunshine.  No matter how you slice it, a sunny day is helpful in every way and a heatwave (to us) is icing.  We arrived and fell into the arms of my family, and aside from a 2 1/2 hour wait to see if Scarlet the dog was still alive, all was wonderfully uneventful.  The dog made it, albeit incredibly hot and seemingly constipated, and matza ball soup was had by all, including the dog!

My nieces and nephews made their usual welcome home sign, which is still up, and we all slipped back into our parallel universe with ease.  Well, the kids did anyway.  I, on the other hand, carried my illness across the pond and still couldn't sleep through the night without the help of codeine.  This time my mom organized a visit to a GP that a) took insurance and b) was a pulmonary specialist.  You can't medically move in America without insurance and now most doctors don't accept any.  Insurance companies literally run the business of medicine here.
My mom came with me on the visit.  The last time she did this was 13 years ago when I went to the gynecologist thinking that I had a tumor on my ovary, only to find out that I was pregnant…out of wedlock!!  Oi vey! My inner dialogue during our wait in the office was a mix between, 'Please G-d, don't make me pregnant cuz I'll have to kill my husband,' and 'Please don't let me have a tumor in my lungs'.  Aside from my dramatic flashbacks, I was desperately happy to have my mom next to me, taking over, and making sure I was going to breathe easily again. Amazing how that role play exists no matter how old I get.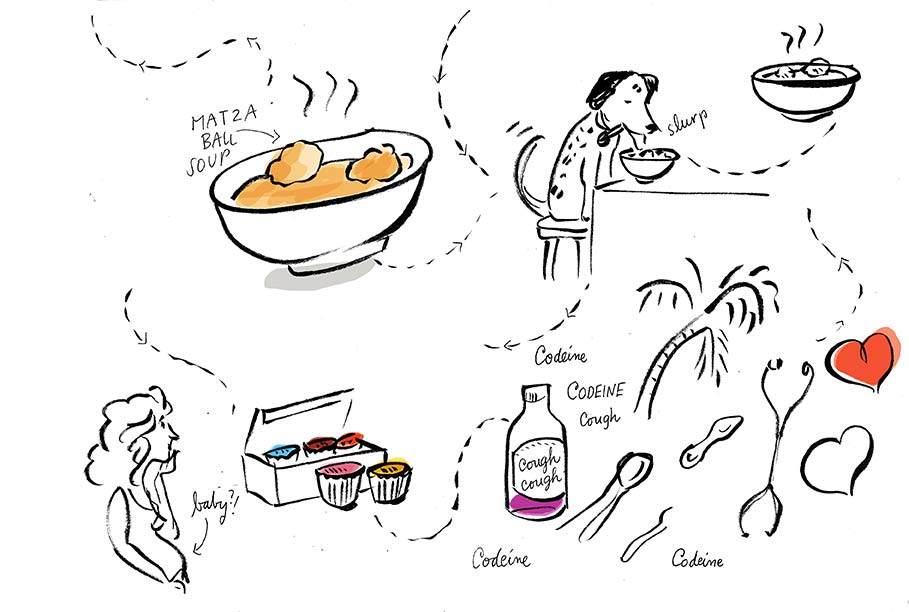 The doctor basically agreed with the diagnosis that England's climate doesn't suit me but he added another factor; most of his patients living in England have concocted a fungus in their bloodstream that you can be allergic to and can cause asthma and breathing difficulties.  You get it from old heaters/heating systems.  My mother looked at me at this point with victory in her eyes.  Once again, no money was exchanged and professionals were telling her daughter it's right she moved!   I looked away knowing that I'm a fungus-infected, breathless mess who doesn't have a lot of fight left in her right now.
We ended the appt. by giving the doctor a box of cakes, as we were an emergency visit during his lunch break, and I must say those cakes went a long way because he's called to check in twice in the last week for health updates!  Good move, mom.
What I realized, again, is how life just stops when you're not well.  Being ill is all consuming, you can't move forward, you can't tick boxes in your endless lists, you can't think of anything else other than how you are feeling.  It's a boring topic but I can't get past it right now.  I haven't really reached out to most friends yet because it all feels too much and family are the only ones I feel I can totally bore with the recent color of my phlegm!
It's over a week on and I am still surrounded by all of our suitcases and every closet and room feels like a project.  With a week's worth of hindsight on my side, I think the only thing that ever stops me in my shoes, truly, is illness.  So getting sick has kept my pace incredibly slow and has allowed me some space, which I'm often not great at taking, to get used to being here.  I haven't made the distinction yet that we are not on holiday this time, that we actually moved here.  Maybe that's why I can't seem to unpack?
We took a trip for a few days to Yosemite National Park – one of America's finest displays of mountain ranges overlooking a valley full of sequoia trees, oak and pine trees and beautiful meadows.  It's a chance to watch your kids play in a river, building forts and making rock formations, for hours on end.  Heaven. But just as I was breathing in the fresh air, I literally ended up choking on it and quickly relapsed into illness.  This time I sunk quite low and depression felt like a natural option.  But then a shift happened.  We got into the car to drive back and I actually felt like I was going home.  Not a vacation home, but MY home.  And that feeling brought with it a lightness and ease, and the easy breathing started to follow.
A move is a really big deal, no matter what.  This move carried a great deal of decisions with it – school, husband's work, emotional life of everyone, money matters.  And although I thought I was doing great, remaining calm and courageous, my body took the stress and turned it into a great mound of sticky, annoying phlegm and placed it on my chest…quite close to my heart.  This next week is about clearing that out and cleaning up the mess because next week school starts and let me just say, that will be a world unto itself requiring all of me, for all of them.